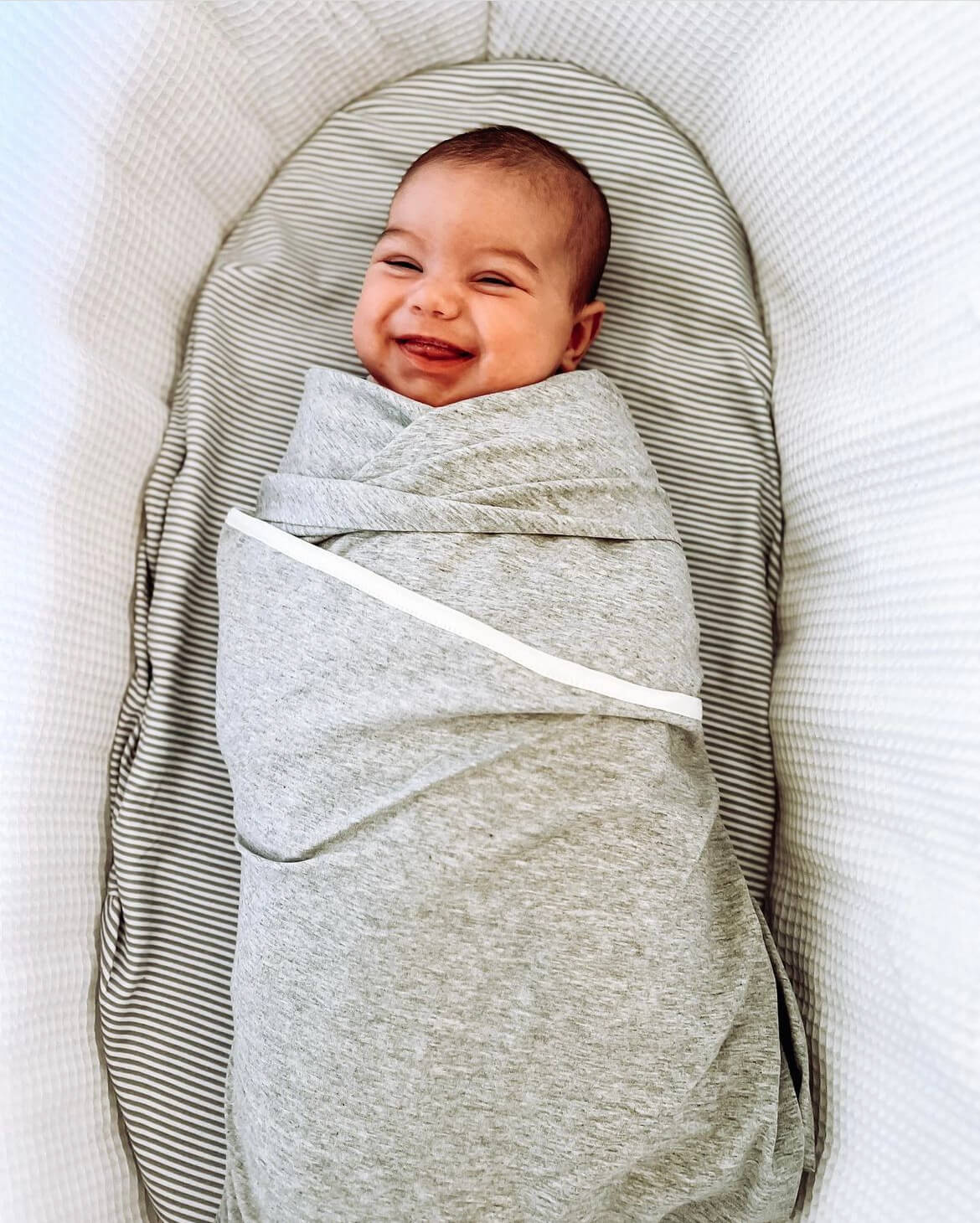 How to use our Newborn Swaddle
Watch how it works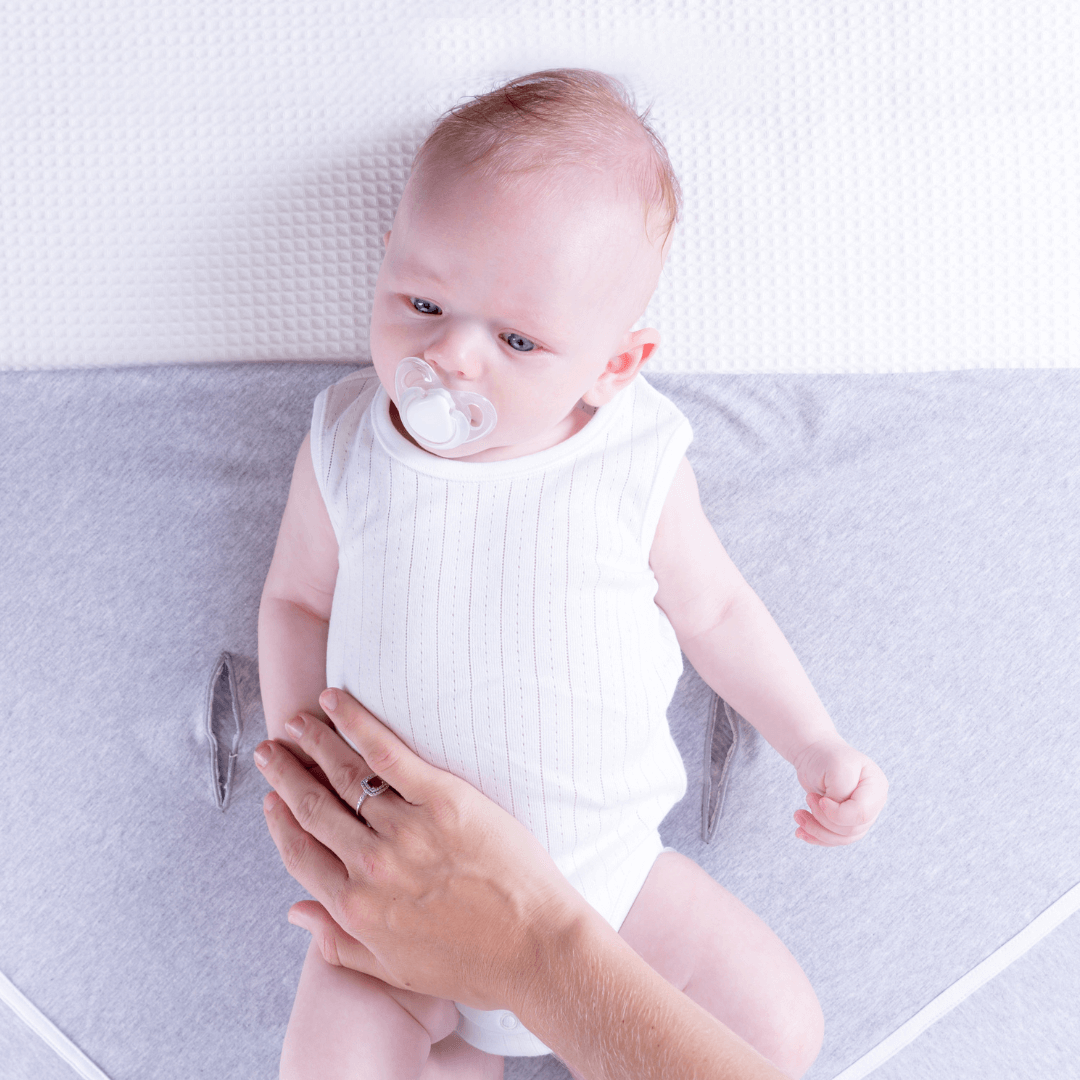 Burrito Baby helps babies sleep tight, day or night
As parents ourselves, we set out to make a swaddle that actually works.
The Newborn Swaddle is pre-folded, super stretchy, and made with soft material.
It has a glow-in-the-dark stamp and, best of all, you can choose to securely swaddle your little one with their arms up or down.

Thanks to Burrito Baby, mums, bubs, dads and whole families across Australia are sleeping more soundly than ever!
How to Swaddle Arms-Up
Once wrapped, your baby's hands will rise so they can self-sooth, all while staying securely in the arm-holes.
How to Swaddle Arms-Down
Think back to your scans during pregnancy. If your baby had their hands down, then they would probably prefer to be swaddled with their arms down.
Newborn Swaddle FAQs
Find some of the questions we get asked the most below. But hey, if you don't see your question here, don't hesitate to shoot us an email. We're here to help!
Yes, indeed! Our swaddle has a TOG rating of 0.3. Keep in mind, when you wrap your little bundle up using both sides of the wrap, the TOG triples to 0.9.
Here's what we recommend:
0-1 month: Small (75x75cm)
2-3 months: Medium (90x90cm)
4+ months: Large (125x125cm)
But if your little nugget happens to be on the smaller or bigger side of things, fret not! Our advice can be easily tweaked to suit your bundle of joy's needs. After all, we welcome babies of all shapes and sizes with open arms.

Not sure which size to pick? No worries, we've got your back! We'd suggest going for the large size because it's super generous and ensures your little one gets that perfect snug fit they deserve.
And hey, if there's a bit of extra fabric, it's no big deal. You can simply fold it up from the bottom and tuck it in for some extra security for your precious bub. We want you to feel totally confident that your baby is all cozy and comfy in our swaddle.
Absolutely! Our Newborn Swaddle grows and stretches with your baby as they sprout. The armholes are thoughtfully designed not to hamper blood circulation, and the fabric is woven to accommodate your baby's growth spurts.
We suggest having at least 2 or more swaddles. You never know when a midnight burp-up or a little accident might happen. Having an extra swaddle ensures your baby sleeps soundly while the other one gets a wash.
Our Newborn Swaddle is crafted from a soft, breathable woven fabric, comprising 4% elastane and 96% cotton fibre. It's designed to keep your baby comfy and cozy.
Absolutely! Our swaddle is perfect for newborns, including Premmies. It's designed to provide comfort and security right from day one.
According to Red Nose guidelines, dressing your baby appropriately for the room temperature is key. In warmer weather, swaddling alone is just fine. If it's cooler, you can add a lightweight blanket, ensuring it's tucked in securely and your baby's feet are at the foot of the cot to prevent any wriggling under the blanket, which could cover their head or face.
For further clarification read:
Safe Bedding - Is the Bedding Safe?
Bedding Amount Recommended for Safe Sleep
It's essential to stop swaddling when your baby shows signs of turning over. At this stage, their arms should not be restricted because they need them to roll over safely. This typically occurs between 3 to 4 months. When the time comes, we recommend transitioning to our Transition Swaddle for a smooth move toward independent sleep.
If for any reason you're not absolutely head-over-heels in love with Burrito Baby - you are welcome to return it for refund within 30 days (excluding shipping fees).
Read our Returns Policy for full T&C's.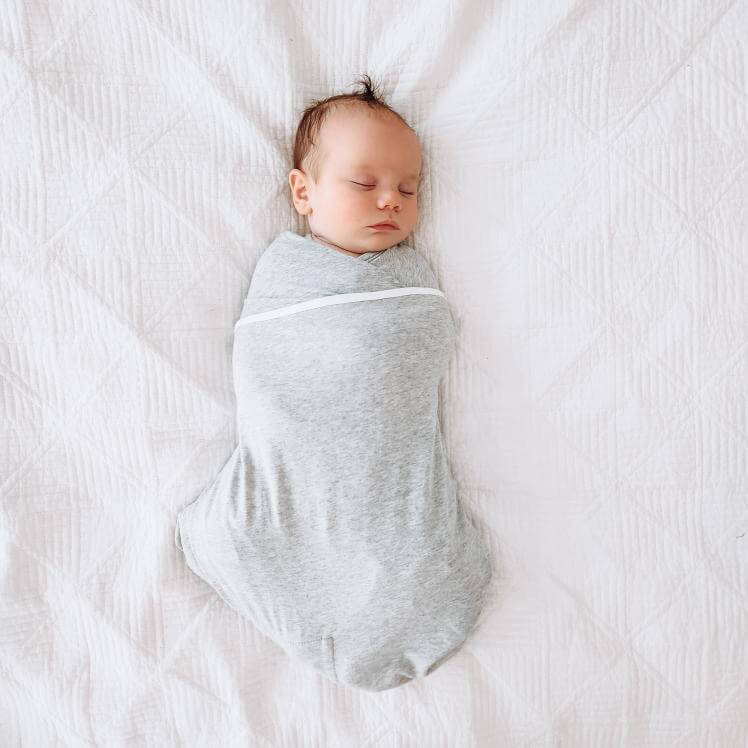 Safety tips
Swaddled babies must be placed on their back.
Never cover baby's face with a swaddle.
Use the glow-in-the-dark positioning patch to correctly place baby on the swaddle prior to wrapping.
To avoid overheating, ensure baby isn't over-dressed.
Follow SIDS safety recommendations when using a blanket or comforters in cots.